Paintless Dent Repair Services in the Triangle Area of North Carolina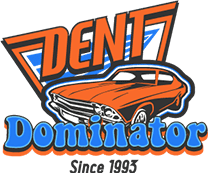 PDR in Raleigh, Cary, Apex, Holly Springs, Chapel Hill, Durham & Surrounding Areas
When your car, truck, or SUV sustains minor body damage and you need repairs, look no further than paintless dent repair services from Dent Dominator. Our technicians are PDR experts, capable of complete repair and restoration services that are perfect for custom vehicles. Paintless dent repair services, or PDR, remove unwanted dents, dings, and damage from your vehicle without requiring new, fresh, or blended coats of paint. This saves time and money as well as preserving decals, custom paint jobs, and other specialty features that a new or blended coat of paint would disrupt. For the finest paintless dent repair services available in the Triangle, NC area, contact Dent Dominator for all of your PDR needs.
PDR For Hail Damage in the Triangle
Forces of nature can wreak havoc on your vehicle. Hail damage is notorious for creating extensive damage to vehicles with hundreds of small dents and dings. Paintless dent repair services from Dent Dominator are the perfect solution. Most hail damage doesn't affect paint, making PDR a less expensive, time saving alternative. Contact Dent Dominator for hail damage repair in the Triangle.
PDR For Minor Collisions in the Triangle
When minor collisions or fender benders cause minimal damage, you may wonder, "why bother with repairs?" The fact is, without repair, the resale or trade in value of your vehicle is dramatically lowered without proper repair. The paintless dent repair services team at Dent Dominator is here for your minor collision repairs in the Triangle. Our PDR services will restore your vehicle's value quickly and professionally.
PDR For Door Dings & Dents in the Triangle
Careless motorists and shoppers in parking lots can cause expensive damage to your vehicle. When a vehicle parked too closely or stray cart causes door dings or dents to your car, truck, or SUV, Dent Dominator is the answer. With paintless dent repair services, your vehicle's body will be returned to its original condition. Contact Dent Dominator for PDR in the Triangle.
High End, Luxury, Supercars, Collector cars
Paintless services are perfect for supercars, luxury, high end, and collector cars. PDR provides needed repairs while preserving the custom features of your vehicle. Whether your high end vehicle has specialty paint work, detailing, decals, or anything else, the experts at Dent Dominator will ensure that your vehicle is repaired and its custom look kept in tact. Contact Dent Dominator in the Triangle for repairs to high end, collector, luxury, and supercars.
Window Tinting
Window tinting adds a thin layer of film to your vehicle's windows for comfort, privacy, safety and value. Window tinting isn't just for privacy but the benefits go further than just privacy. Window tinting can lower the temperature inside your car, shield your car's interior from harsh UV light, keep your seats, dashboard and interior coverings in shape and preserved against the elements.